Today marks the official launch of Star Wars: Galactic Starcruiser at Walt Disney World Resort, and to celebrate, we're taking a quick photo tour through the Halcyon starcruiser. Come along as we journey to a galaxy far, far away thanks to the amazing work of our Disney photographers.
Guests arrive for this first-of-its-kind two-night experience at the Galactic Starcruiser Terminal, where their bags and car are whisked away as they begin the adventure.
After boarding a Launch Pod and blasting through hyperspace, Guests dock with the Halcyon starcruiser and step out into its main deck Atrium. Here, Guests may be greeted by SK-62O, the ship's resident astromech droid (he's helpful in a pinch).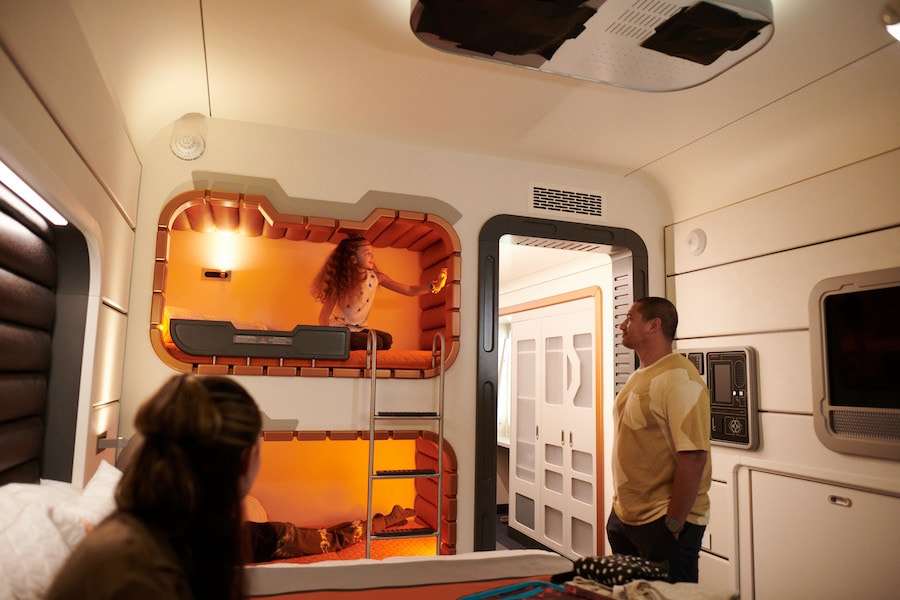 Then, Guests are escorted to their cabin, which is fun to explore in its own right – especially those sleeping berths built into one of the walls and the viewport out to space.
Once Guests are settled in, it's time to head back down to the Atrium for the ship's muster, led by Captain Riyola Keevan (seen here on the right) and Cruise Director Lenka Mok.
Following muster is a good time to do a bit more looking around – the Sublight Lounge is great for a nice drink or a hand of holo-sabacc, or maybe a stroll into The Chandrila Collection boutique to pick up some clothing and accessories for the voyage.
By now Guests should be checking their Star Wars: Datapad through the Play Disney Parks app on their mobile device. The itinerary updates constantly throughout the stay, so Guests will always know when it's time for some special onboard activities like …
… Bridge Training …
… Lightsaber Training …
… or dinner in the Crown of Corellia Dining Room, featuring a spectacular musical performance by galactic superstar Gaya on the first night.
Whew … there's a lot to take in already, and Guests could potentially do all of that in just the first few hours of the two-night journey!