If you've ever been to the Disney theme Parks you've probably seen the FuelRod service machines at random locations throughout the parks. The service provides guests with the ability to purchase a FuelRod kit which is a portable battery charger for cell phones and tablets. As we all know, our cell phones just never carry enough battery for all the pictures and app use at the parks so we tend to find ourselves on a low battery part way through the day.
The FuelRod service seems nice because all you have to do is purchase the kit one time and then you can swap out for a new battery once you've drained yours for free at any FuelRod kiosk no matter what park you're at.
The real question here is is this service worth the cost? Is there true convenience in the FuelRod service and do I ever have to worry about anything changing? I'm going to spill my true feelings here having been a user of FuelRod for over a year and hope that it will be helpful in your decision making.
Is The FuelRod Service Worth It?
No. I can't be more clear or honest when I say that. So why have I been using it for over a year? It's complicated. I purchased my first kit a while back when I was desperate for some battery juice one day at the parks. I had forgotten my Jackery Battery Pack at the hotel and had no cable to plug my phone in.
So I pulled out my credit card and forked over the $30 it costs for a kit. Ever since then I have carried a FuelRod with into the parks along with my trusted Jackery Battery Pack. If I was ever with someone who needed a charge I always handed over my FuelRod for them to use. When it was dead I would swap it out when I remembered.
So yes, I have been "using" FuelRod for a while but I actually prefer my other charging products over FuelRod. Why? Several reasons. First, FuelRod is expensive for what you get. A Jackery Battery Pack on Amazon costs $24 which is less than at the parks but you're getting way more out of it than a FuelRod.
I spoke with FuelRod on Oct. 21st, 2019 and they told me that the mAH or power that comes out of a FuelRod is 1,000mAH. This is on the very low end for a portable charger. It affects your charging experience twofold. First, your phone won't charge as fast as it could. Second, you won't get much of a charge out of it. On the FuelRod website they claim up to 8 hours if you're doing nothing with your phone and just letting it charge. This is very far off from what you actually get.
When I've used mine at the parks I'm lucky if I get a full 2 hours of charging. They told me that it just depends on how many apps are running and if you're using your phone or not which is true but not that true.
When I specifically asked them why they chose a lower mAH they told me it had to do with overheating. Apparently the higher you go on the mAH the more likely your device is going to overheat. I can tell you that using FuelRod my device will still get hot just like any other quick charge battery.
If you really want to do a comparison of similar devices (the Jackery is a bigger battery) then look at the the Anker PowerCore 5000 which is the same shape and size as the FuelRod battery but packs way more voltage (5000mAH) for your device.
My second main issue with FuelRod is actually a new announcement that I learned from my call with them. Beginning November 1st, 2019, FuelRod will no longer offer free unlimited swapping at the Disney theme parks. This was probably the one thing they had going for themselves since a user could simply swap out for a new Rod if theirs ran out of juice.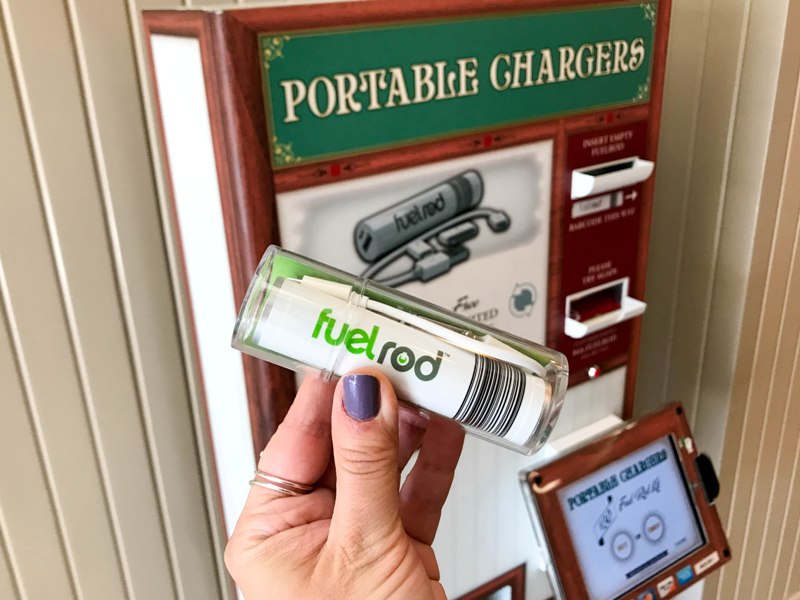 Now, a swap will cost a user $3 which is completely absurd. Why? Because with FuelRod you'll inevitably need to swap out several times a day just to keep your phone from dying. Paying $30 for your kit plus $6-$9 per day to swap is ridiculous. Any other portable charger that I've mentioned will last all day long, charge faster and give you the full charge you need for much less than this cost, without ongoing charges.
The FuelRod representative did make it sound like Disney was the one who was "taxing" the swaps and that FuelRod wasn't too happy with it. I don't know for sure if there's a profit split or what but she did mention they were working on a possible monthly plan where you could pay up front for a certain number of swaps. Even if this was the case it wouldn't be worth it.
Not All Charges are Equal
It's true and FuelRod is the most complicated. How the kiosks work is they have new kits that can be dispensed for the cost of $30. This give you a brand new rod for charging. However, you can kiss that new rod goodbye the second you swap it out for another one. You're going to get someones old rod once you do this.
What I hate about this is that you never know what someone has done to the rod you're getting. Somehow they may have lessen its capacity or charging capabilities. Also, someone else has been manhandling it for who knows how long and where. Gross.
The other thing to know is when you do the swap for a new one you have no idea how much of a charge it has because you don't know how many swaps have taken place at that kiosk. Hopefully you follow me here. If someone swaps out for a new rod and then 9 other people do within a matter of 20 minutes and the machine can only hold and charge 10 rods, you may end up getting a rod that's only been charged for 30 minutes or less. That means there's a good chance it won't have a full charge for you to use.
So…..
If you're even thinking about FuelRod I would highly recommend checking out the packs from Amazon that I mentioned as you'll be much better off. And spread the news that a swap fee is now going to be charged at the Disney parks because for the last few years it's been free and there's probably going to be a lot of angry users out there.
How Does FuelRod Work?
I'm answering this question after my long explanation above because many people may not even be interested in it anymore. If you're still wondering how FuelRod works, read on.
You can get a FuelRod kit several ways. First, online at Fuel-Rod.com. It's not instant, you'll have to wait for shipping but it's probably the lowest price to purchase one at.
You can also purchase a kit at airports and at the the Disney theme parks. They tend to cost about $5 more here but you do receive it right then and there. Be sure to check out FuelRods Twitter as they sometimes have FuelRod promo codes that they put out. A FuelRod promo code can save you about $2 off your purchase depending on the time of year it is.The last Halloween FuelRod promo code they had was for $2 off your new purchase (FallFun19).
Your kit will vend out of the machine brand new and it will include several short cables for different types of phones and tablets. Simply open your new kit, find your power cord, plug it into both devices and you're good to go. When you're ready to swap out for a new rod all you need to do is find a kiosk, hit Swap and then follow the instructions. You'll receive a new rod after placing the old one in the machine and you're on your way again.
Conclusion
I think you know my true feelings on this subject now and I really can't be more blunt about it. The FuelRod service was mediocre when it started and now that they are going to charge you for use at Disneyland and Walt Disney World at $3 a swap, it dropped to never worth it. Don't buy in to the "convenience" that it seems to offer because there really is none.
Buying a portable charger before you go to the parks is a better idea. I've thoroughly enjoyed my Jackery Packs as well as the Anker PowerCore for its small design and power. If you're looking for any more tips on what to bring with you to the parks be sure to check out my complete guide on What to Pack for Disney. If you're headed to Walt Disney World you can save some serious money by using my Walt Disney World Planning Guide. Saving money on tickets is as easy as buying them from Park Savers for up to $81 off per ticket.