When you're planning your trip to Disney World, there are a lot of different things to consider. The days can be busy, and there are so many things to see, rides you want to go on, shows to see, and meeting characters to meet that you can tick off your list. Although there are some places for fine dining and reservations, as well as Disney meal plans, there are a lot of people that choose to eat at the quick service restaurants that are throughout the parks. Of course if you're a big fan of Table Service be sure to check out my list of the Best Sit Down Restaurants.
You don't have to stress about missing a restaurant reservation if you're stuck in a line for a ride or miss out on something unexpected that you come across and want to spend more time with. So for many reasons, quick service restaurants can be a great idea. But as there are an overwhelming number of choices, with literally hundreds of restaurants to choose from, where do you start?  
Here we've done some of the legwork for you, so that you can plan your trip to Disney World and plan where you want to be, and where you want to eat on each day. Then you can look up each park, see where the best quick counter service restaurants, and then you can go from there and plan things out. So with that in mind, here are the top ten best Disney World quick service restaurants.
Flame Tree Barbeque
Found in the Animal Kingdom, Flame Tree Barbeque can be a great spot to head over for some stellar BBQ food. If you're after food like chicken, ribs, sandwiches, loaded mac and cheese, coleslaw, and beans, and so on, then this could be the restaurant for you. The counter service is quick, and there are a great choice of things to choose from.
There are predominantly meat main meal options, but there are some healthy sides and other options. You can also add some quick snacking options too, like the pulled-pork cheese fries that you could grab and go. One plus side to the restaurant is that there are some great seating locations. You can eat indoors if you'd prefer some air conditioning or there is a rainstorm. But there are some great seating options outside too. You can sit down by the water, so it really sets it apart from other quick service restaurants. 
The food options have been really well rated, and as it is one of the best Disney World quick service restaurants, it is a popular spot. One top tip is to use the mobile app to order your food. If you're there on a peak summer day, then you can expect some lines for the food. Although they move quickly because of the quick counter service, you'll save yourself a bit of time if you've ordered ahead of time. 
Satu'li Canteen
Another option at the Animal Kingdom Disney World park, and one of the best rated out there, is the Satu'li Canteen. Satu'li really is a fabulous spot, with fantastic food options that you wouldn't expect for a quick service restaurant. It definitely fits in with the Pandora theme where it is located. It has such a beautiful setting, and is decorated really well, to fit in with the area of Animal Kingdom that is Pandora.
There is one big selling point, that also helps to make things a little fancier, but without the hefty price tag, and that is that it has real plates and silverware; no plastic plates or food boxes in sight. This is such a good thing from an environmental point of view, as well as making things easier to eat from, so that it is a big plus.
The food is pretty inexpensive, but it is filling, satisfying, and full of healthy options. The main premise for the restaurant is that is it based around rice bowls, where you can mix and match your options to have on top of the rice. You can meat options, veggie options, and everything in between. It is a great choice for people looking for a gluten-free menu too. The service is nice and quick, and as mentioned, it really is an affordable option. So many people have reviewed Satu'li Canteen restaurant, and described it as the best quick service in Disney World, hands down. 
Earl of Sandwich
Located in Disney Springs, Earl of Sandwich isn't a quick service restaurant that is exclusive to Disney World. You can find them at other Disney parks, and in some towns. But if you've not got an Earl of Sandwich near where you are, then it is definitely still worth a visit when you're in Disney Springs. As the name suggests, it is a great spot for lunch, with one of the best-sellers at the restaurant being a turkey sandwich.
The Earl of Sandwich is more than just a generic sandwich shop. There are some paintings of the various Earls of Sandwich, antique books, and even things like the 'Sandwich Charter' which is on the walls, sharing the various locations of the stores. 
The Earl of Sandwich at the Disney Springs location at Walt Disney World, because of the location, is somewhere that is always incredibly busy, as it isn't strictly in a park that is ticketed (so the general public can eat there too). The price is inexpensive for what you get, and the sandwiches are well made and they have some great reviews. 
In terms of the sandwiches, the main event, they're pretty good. At Earl of Sandwich, you order your sandwich, then you go through the line, picking up any sides that you want, and you can watch the sandwiches going through the line to be prepared. A lot of the time, if it has been busy, is that you often get a buzzer after you pay, simply because the production line of the sandwiches being made tends to move slower than the line to pay. Even if the line is long, you are likely to not have to wait longer than ten minutes; they are pretty effective at getting people through as quickly as they can.
PizzeRizzo
At the Disney Studios Park, you have plenty of options for quick service meals. One that you might be looking for is Pizza Planet, with a Toy Story theme, of course. But this closed a few years back, and PizzeRizzo is now there instead. If you were a fan of Pizza Planet, then you'll be pleased to hear that not all that much has changed, although it is now a Muppets themed restaurant. 
The building colors have changed, and the interiors like the tables and the flooring have changed, and there are no games now, but that is pretty much it. There is very little to see inside the restaurant, so it is all down to the food. As for the food, it is something that has not really changed. You have pizzas to choose from, a Caesar salad that comes along with your pizzas, and of course, the drinks. It is open for lunch or dinner, and offers some multi-level indoor seating, so can be great to sit, chill, cool down, and enjoy your pizza. 
There are different options from meat pizzas to plain cheese. The pizzas are a good size and they taste well, with a good crust, toppings, and sauce. You're likely to be left feeling pretty full, as the portions are generous. If you have still got room, then there are treats to have, like tiramisu and dessert cannoli. If you are paying as you go, then it can be good value for money. But if you are on a meal plan, then it can be a better idea to eat somewhere with a larger price tag to really get your value for money with your meal plan. 
Woody's Lunch Box
Woody's Lunch Box is a pretty new quick service restaurant in Toy Story Land in Disney's Hollywood Studios. Choosing this as a  dining option would be your top choice if you are looking for mostly American comfort food, but food that tastes good and is good value for money. Woody's Lunch Box, despite the name, is open for breakfast, lunch, and dinner, with some great choices for each. 
A point to note is that Woody's Lunch Box is like a few of the counter service restaurants that you'll find in Disney's Hollywood Studios, as it is just ordering from a window and then eating outside. So if you're there in summer, there is no cooling down from the heat and humidity of the day. There are umbrellas to sit under, but for the affordable, quick, and tasty service, it can be a good option for a family.
As for the food, there are a variety of different options from things like turkey sandwiches with mustard, to beef chilli with queso with tomatoes, corn chips, sour cream, smoked brisket, and so on. There are plenty of sides to choose from, as well as sweet treats like their chocolate-hazelnut lunch box tart, which is their tasty version of a Pop Tart. So there are some grab and go options, as well as things that are best to eat when sitting down. While it isn't fancy, it is affordable, quick, tastes good, and that is why it makes it onto the best Disney World quick service restaurants list.
Yak & Yeti Local Foods Cafe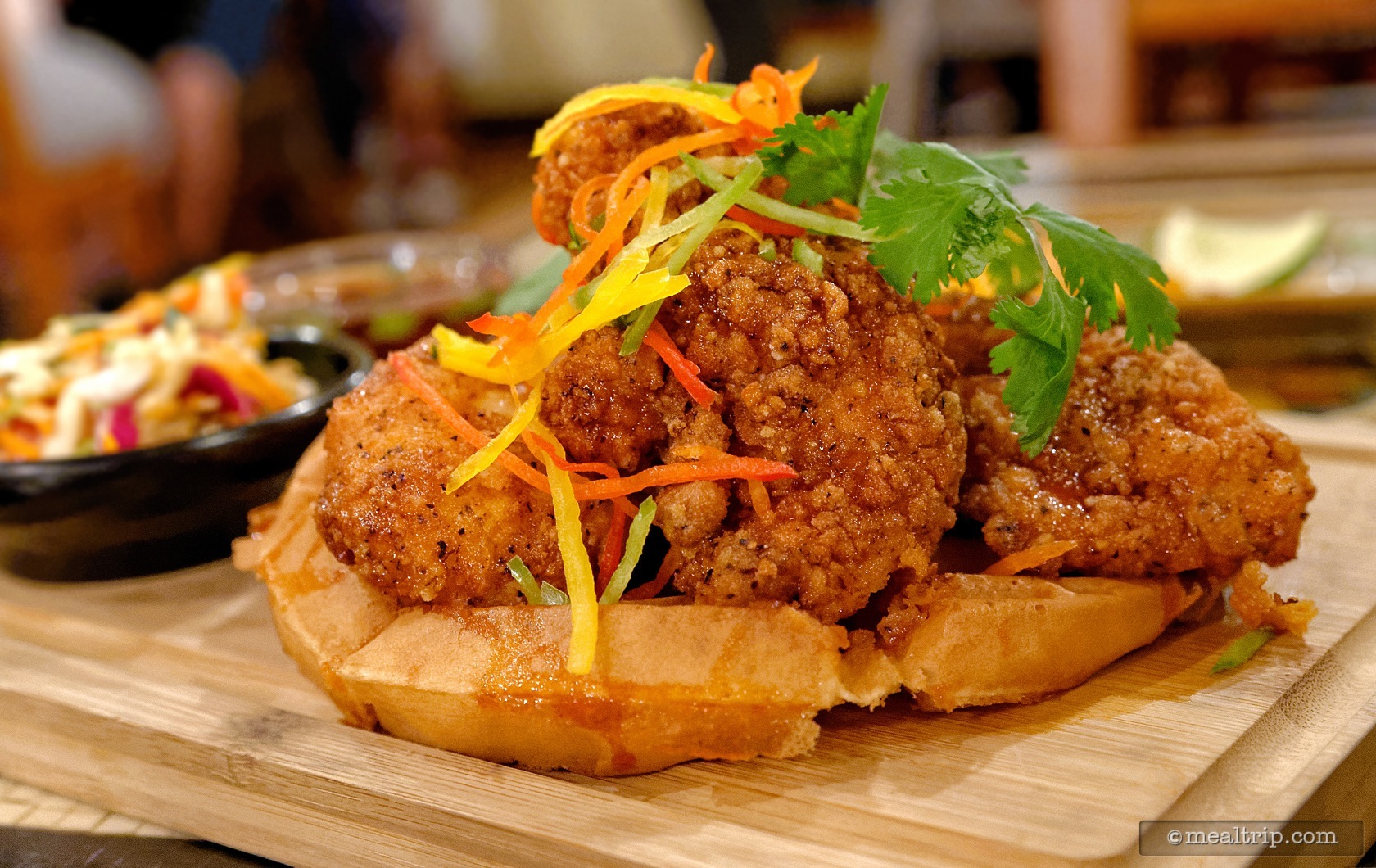 Yak & Yeti Local Foods Café in the Animal Kingdom is a quick service restaurant serving Asian cuisine, combining flavors from China, India and Nepal. This restaurant is an option for a dining plan, as well as being open for lunch and dinner for drop-ins. There are plenty of places to sit, though they are all outside; there is outdoor seating in a detailed outdoor courtyard. 
Some of the most popular items on the menu include the Mandarin chicken salad, kung pao beef and the pork egg rolls, to give you an idea about the kind of food that you will find there. They do have salad and sandwich options, but if you are wanting to have the tastiest food, then the Asian-inspired options on the menu is the best option.
Overall, Yak & Yeti Counter Service offers menu items that are a bit of a departure from the standard, which is nice when you're wanting to avoid burgers and fries. The portion sizes are generous, and the price is really reasonable. It is a great choice when you're visiting Animal Kingdom, if you're looking for some Asian food.
Harambe Market
Harambe Market is a quick counter service restaurant at Animal Kingdom. It is one of the newest restaurants, for now, and is located in the larger and expanded area of New Harambe in the Animal Kingdom park. Like the rest of New Harambe that opened before the restaurant, the detail and design with Harambe Market is spot on. It fits in so well and has a really detailed courtyard; the kind of attention to detail that you can come to expect at Disney.
The restaurant has a counter 'window' to order from, so again, no indoor seating. Though there are places to sit outdoors. But it is the environment and the food that you come here for. One of the popular choices on the menu is the ribs, with the meat being tender and moist, almost like a less fatty version of the pork that you can find at Gaston's Tavern.
There are flatbreads to choose from, kabobs, with tasty sauces like tzatziki-inspired sauce to give flavor to all of the meat and veggies. They do also have some treats like the African milk tart, which is a must for anyone that loves some creamy coconut treats in their life. Overall, the design and look of the place makes it fit in perfectly in Africa, but gives you the quick, tasty, convenience that you are after during a busy day in the park. 
Regal Eagle Smokehouse
The Regal Eagle Smokehouse is found at Epcot's American Adventure pavilion. It is a fast and casual BBQ quick service restaurant, as well as a brewhouse, making it a little different from the rest. The menu is good news if you're on a Disney dining plan, or are just paying as you go, as there are a large range of entrees that will give you plenty of value for money, regardless of how you have paid. 
The menu for the restaurant at Regal Eagle Smokehouse has a large variety of sandwiches and platters, and even a plant-based option, which is great news for Disney parks. Talking about sandwiches, Regal Eagle have a sliced beef brisket sandwich with spicy sauce on garlic toast, and there is a South Carolina smoked sausage sandwich that comes with a tangy mustard sauce and some caramelized onions. Sounds great, right? If you are looking for something more like an all-American burger, then there are grilled burgers, topped with BBQ pork and onion rings. 
If that sounds a little meat heavy for you, then there are some lighter options, that are still full of flavor and give good value for money. Regal Eagle Smokehouse has a Power Greens Salad that comes with chilled pulled chicken with a fresh citrus vinaigrette. Disney does have a plant-based initiative, so there are also 'burger's with a plant-based burger patty, with things like BBQ jackfruit on top, rather than the pulled pork. 
Sommerfest
This quick service restaurant, again, found in Disney's Epcot, is simple and very much a what you see is what you get, kind of place. But sometimes the simple and easy options are the best, and it can be just what you are looking for when you've had a long and busy day in the park. It is a small counter service spot, rather than a full restaurant, but stopping off in Epcot's Germany Pavilion to see what it is all about, is a really good idea. 
As with a lot of the best Disney World quick service restaurants, there isn't a whole heap of seating. There are a few tables inside a big covered area near the front, as well as a couple of them outside. But if you are visiting at a busy time of year, or a peak time of day, then chances are that you will have to take your food outdoors to eat. This, along with the fact that there will be a line for food shouldn't put you off; your patience will be rewarded with the great tasting food and drinks. 
As for the food, the menu at Sommerfest is quite small. There are only a couple of entrees, which are sausage and meat based, and they have some desserts as well. There are options of a side potato salad, but it is quite simple and straightforward food, like you would find in Germany itself. If you want a quick snack, like an authentic pretzel, then it is the place to go to for a hand-twisted pretzel.
For the drinks, the drink menu has your standard options like soda, water, coffee, tea, and hot cocoa. But there are also some of Germany's finest beverages, if this kind of thing takes your fancy. Again, there is a small selection, but it has a great variety. You can choose from Schnapps and shots, as well as some beer and wine.
To-Go Cart
If you are heading to Disney's BoardWalk for a walk or to do some shopping, then the chances are that you'll get quite peckish at some point. There are some places that will need advanced dining reservations, but there are plenty of options if you're hungry but haven't called ahead. There is a bakery, but there is also the To-Go Cart that has some things to offer.  
They have a bright and colorful menu outside of the cart tempting with some new things to try, like fried ravioli and corn nugget fritters. It is definitely some quick and easy to grab and go food, with a lot of fried options. You can choose onion rings, cheese fries, hot dogs, hamburgers, and so on. Basically, the process is as simple and quick one.
You choose what you want from the menu, order what you want, wait for a couple of minutes while they get it for you, and then you're good to go. The cart doesn't have any particular seating of their own, but there is some seating nearby that you can use, unless you want to walk around with your snacks. There is no completely sheltered or indoor seating available at To-Go,so that is just something to think about. 
Once you're all done paying and are waiting for your food, then it is time to choose your topping choices. There are condiments aplenty, and they also include the hot dog options like onions, sauerkraut, hot sauce, ketchup, and BBQ sauce. It is a great option for families, especially if you have a child that is a particularly fussy eater. There will be something here that they will eat, for sure.
While to the To-Go cart isn't a super healthy option, the food tastes good, and is quick and affordable. So if you are looking for a quick snack as you're walking around the Boardwalk, rather than something to eat every day, then a visit to the cart is a must. For simple, quick, and convenient, this definitely needs to be on the list. 
Have you got a favorite choice when it comes to quick service or counter service restaurants at Walt Disney World? It would be great to hear what you think and what you have enjoyed before. Hopefully there is something on the list here that will work for you and be a good way to try some new cuisine, all while enjoying your day at the Disney parks.
It can be a good idea to look on the Disney Experience app for your food, as a few of the counter service restaurants do let you order in advance on the app.